A gamer knows what it's like to play nonstop all day and night. The best part of gaming is getting lost in another world, but the worst part is having to come to a halt because your controller's battery is running low.
Is your Xbox One controller constantly plugged in? With this Xbox One Controller Charger, you can finally end up having to buy new batteries for your controller. Due to the controller's rechargeable battery built-in, there is no need for batteries or dead controllers ever again.
You don't need to worry about your Xbox controller losing power in the middle of a crucial match with a rechargeable battery lasting 40 hours. Using this dual charging station for playstation5, you'll be able to play for up to 15 hours without recharging it again.
Charging stations for next-generation console controllers:
PlaystationDualSense Charging Station:
Sony's original PlayStation 5 controller charging station is the best Xbox series x and series s charger. A better product than the PS5 console isn't be found anywhere else.
Sony's DualSense charging station allows you to charge two PS5 controllers simultaneously without connecting them to your PS5. According to reports, charging a PS5 controller using the DualSense charging station can take two to three hours.
Like if you connected your controllers to your PS5, the DualSense charging station will charge your controllers as quickly. So, when you're not playing, you don't need to keep your console running to charge the controllers.
Click the controller into the charging dock and leave it there until your controllers are fully charged. The DualSense charging station is a great addition to the PS5 and the controllers because of its design.
NexiGoDobe PS5 Controller Charger:
DualSense controllers can be charged simultaneously using the NexiGoDobe Upgraded ps5 controller charging station. Just like Sony's model, in that respect.
Additionally, it lacks any branding on the front or sides, just like the Sony model. In other words, it can sit there and blend in with your current setup. Additionally, it has an LED charging indicator light.
Charger lights will match controller colors, and when charging is complete, the lights go out so that you can tell when your controllers are ready to be utilized. In addition, the company claims that its charges are faster than those of its competitors. There are two ways to connect the stand to a power source.
It's not the official Sony model, but it's widely available and can be delivered in a day or two. Sony products are notoriously difficult to restock. Compared to Sony's retail price, it's also a lot less expensive than what's being sold by scalpers.
Orzly Twin Docking Wireless Station:
If you have a wide variety of console controllers to choose from, the Orzly Twin Docking Wireless Station is excellent. It is a great option for dual charging stations for Xbox, Xbox One S, Switch Pro, and Stadia controllers.
This small charging dock can be connected to various power sources. Power banks, desktop computers, and wall outlets can also supply the device with power. Although this dock does not include a wall adapter, it can be purchased if needed. To fully utilize its charging capabilities, you will need to purchase an adapter.
A single controller can be charged in about 2.5 hours using this dock. For two controllers, charging can be completed in three hours if done simultaneously. Power supply efficiency is a major consideration when using a docking station.
This dock effectively safeguards your controllers against voltage problems like overcharging and short-circuiting by using intelligent charging protocols. The display will also show you how much battery power is still left in the device. Only when the controllers have been fully charged will the icons turn blue.
AIM charging station:
The AiM Charging Station can charge both DualSense and Xbox X controllers simultaneously, and the process takes approximately two hours. Charge and store your controllers in seconds with this controller charger for the PlayStation 5 and Xbox One X.
To use the controller once it has been charged, remove it from the charging dock and set it back in its charging dock when you are ready to use it again. Copper has been updated to provide a faster charging time for consumers. The presence of a dual-charging dock assures that you will never run out of battery juice before scoring the winning point.
A distinctive dual-colored LED light indicates the charge level. While a red light indicates that the controller needs to be recharged, a green light indicates that it has been fully recharged or is in standby mode.
Over-current, over-voltage, and short-circuit protection are all prevented by using sophisticated chips and high-quality components built into controllers and your devices. Even if you leave your controller plugged in overnight, you will never overcharge it.
A 2 ft. power cord ensures that you are always connected, no matter where you work. It's ideal for gamers who make a living at it! This is a must-have if you enjoy playing multiplayer games with your friends or family on the same system.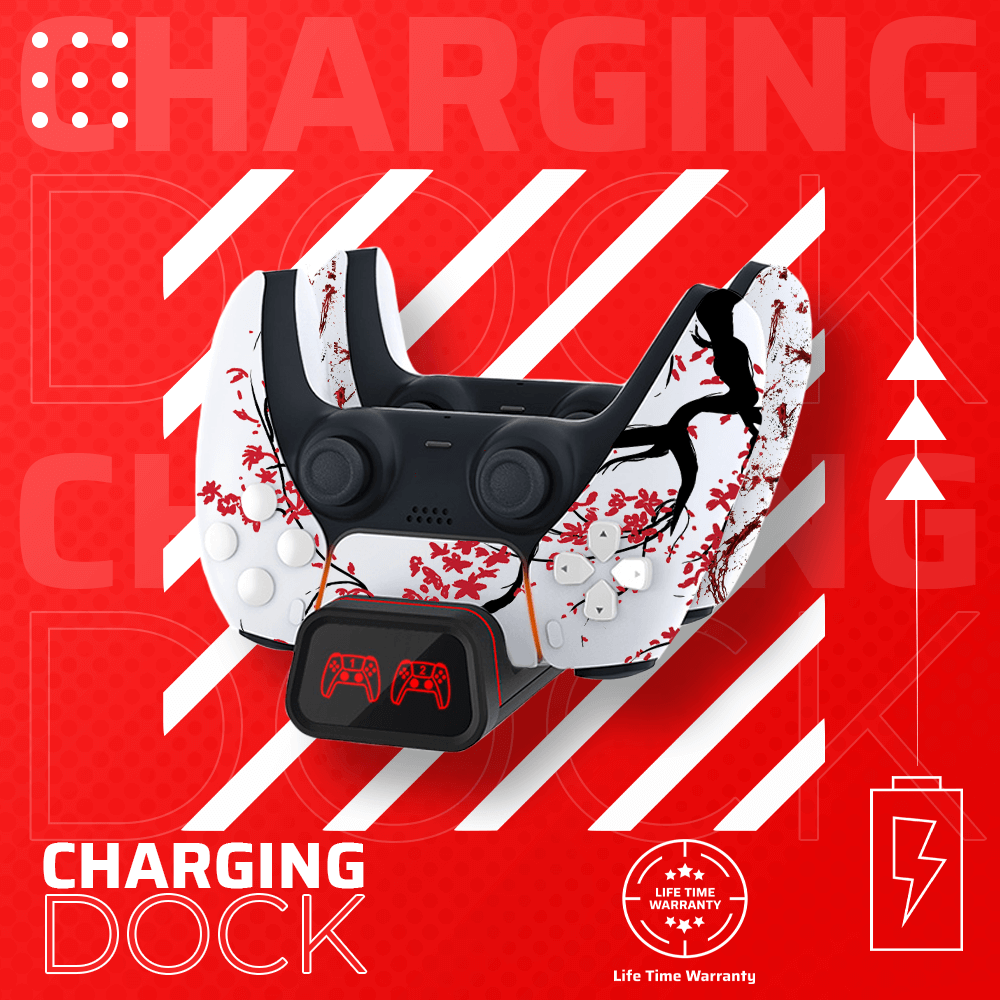 Buying guides
The following factors are important when selecting the best PS5 controller chargers:
According to our findings, the average PS5 player owns two controllers. When a battery dies on one, you can use the other one right away. So we made sure to include docks with at least two charging ports.
The better the charging speed, the faster the battery can be recharged. We had this goal while compiling this buying guide and conducting our product evaluations. Only the fastest charging stations were considered.
Many charging docks were required to be connected to the PS5 console to charge the PS5 controllers. In addition to charging stations that do not have this requirement, we also wanted to include several charging stations that allow power from various sources, such as your PC or an external power bank.
A dual charging station for ps5 is used solely for charging purposes; however, we considered numerous additional functions while making our final choice. LED charging indicators are an example of this. It would be easy for the user to see at a glance whether or not their controller is currently charging or has already reached full capacity.
The "Officially Licensed" label on the box means that the device has been tested and approved by Microsoft to work seamlessly with your Xbox One console. As long as you're sure your controllers are fully charged when you plug them in, this could be the deciding factor when comparing different models.
Conclusion:
You can enhance your gaming experience on the PS5 by using a charging station. It's critical to find a charging station that can charge your controllers rapidly and allow you to play for longer periods before you need to recharge. If you want to keep your controllers attached to the station, you'll need something that looks good, blends in with the rest of your gaming accessories, and is secure.
Remember that it only works if you place your DualSense 5 controller on the charging station after each game. You'll need a second controller for either a family member, a friend, or yourself because the PS5 only comes with one controller. You can play games for hours without recharging your controller if you have two controllers.
Meta Description
Now you can enjoy the long gaming sessions without facing the issue of the controller's low battery. So, no need for dead controllers now!