Do you wonder what PS5 controllers Pros use? Are you unsure which controller is best for PS5? Or perhaps you would like to find out, are PS5 Pro controllers worth it?
If you're curious about the aforementioned issues, you've come to the right place, because today we're covering the most essential PS5 controllers for 2023. Let's get started with our grand PS5 controller comparison!
Sony DualSense – Design, Comfort, and Features
Before we jump into our alternate PS5 controller rating, let's take a moment to reflect on the good old DualSense controller. Is the DualSense the best controller? Or does this technology no longer meet gamers' expectations?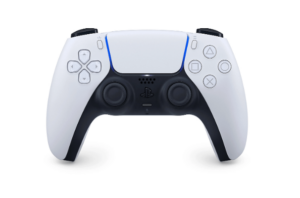 Source: PlayStation website
Design & Comfort
It's no news that Sony's official PlayStation 5 DualSense controller has gained wide popularity among gamers and experts. Its sleek design, comfortable handle, and attractive innovative features have made it a first choice for many PlayStation 5 users. DualSense features a high-tech and refined look, with its two-tone color scheme with a matte finish. This PS5 controller has an ergonomic shape that fits comfortably in the hands and allows for long gaming sessions without discomfort, although players with smaller hands sometimes complain about the lack of grip.
Features
The PlayStation 5 DualSense controller is by far the finest product made by Sony to date. DualSense stands out with several exciting features, such as adaptive triggers and haptic feedback. Adaptive triggers with different levels of resistance depending on the game's actions allow for a more immersive gaming experience. In turn, haptic feedback with realistic and accurate vibrations, enhances your sense of touch during gameplay, making it impossible to pull away from the game. On top of that, the DualSense PS5 controller has a microphone built into it, enabling easy voice conversations without the need for an external headset, which cannot fail to delight.
DualSense has many features that enhance the gaming experience. Adaptive triggers and haptic feedback provide a level of immersion unmatched by other Sony controllers, and a built-in microphone allows for simple communication with other gamers. It makes the PlayStation 5 controller DualSense a cool plaything for gamers, especially first-timers.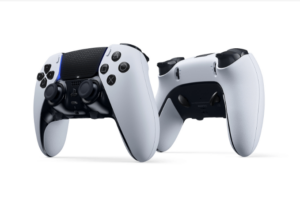 Source: PlayStation website
Specifications
Here are the key technical specifications of Sony's new PS5 controller — the famous DualSense.
| | |
| --- | --- |
| Dimensions | 160mm x 66mm x 106mm |
| Weight | 280g |
| Action buttons | control crossbar, action keys (triangle, circle, cross, square), L1, L2, R1, R2, options button, station button, Create button, power button |
| Touchpad | Interactive 2-point touchpad with click, touch, and gesture support |
| Sensors | gyroscope, accelerometer, microphone movement sensor |
| Haptic vibration | yes |
| Adaptive triggers | yes |
| Color | black and white |
| Battery | internal, capacity 1560 mAh |
| Charging time | approximately 3 hours |
| Operating time per charge | up to 12 hours |
| Charging | USB-C port |
| Wireless connection | Bluetooth 5.1 |
| Cable | USB-C to USB-A |
Setup & Functionality
Setting up the DualSense PS5 controller is a piece of cake. This PlayStation 5 controller from Sony can be connected wirelessly to your PS5 console via Bluetooth, or USB if you prefer a wired connection. The controller has a built-in rechargeable battery that can be charged using the included USB-C cable or docking station.
Here's a quick guide to connecting this PlayStation 5 controller.
How to pair the DualSense wireless controller with PS5 consoles?
The first time you use the controller, you need to pair it with the console.
Make sure the PlayStation 5 console is turned on.
Connect the controller to the console using the included USB cable.
If the controller is off, press the PS button.
When the light bar starts flashing, the player indicator will light up.
Notes for pairing DualSense PS5 controller: 
If the battery life of the controller is sufficient, you can disconnect the USB cable and use the controller wirelessly.
Note that the controller can only be paired with one PS5 console at a time. To use the controller on another console, you must pair it with that console. You can use up to four controllers can be used at the same time. When you press the PS button, a color will be assigned to each user.
How to pair additional PS5 controllers?
Once you have paired a controller with your PS5 console, you can wirelessly pair additional controllers with both the original and custom PlayStation 5 pad.
Before you start pairing, make sure the light bar of the additional controller is off. If the light bar is on, press the PS button to turn it off.
Using the paired controller, select Settings > Accessories > General > Bluetooth Accessories.
Using the additional controller you want to pair, press and hold the Create and PS buttons simultaneously.
Using the paired controller, select the additional controller from the list on the screen.
Pros & Cons
What are the pros and cons of the PS5 controller from Sony? Here are the main advantages and disadvantages of this device.
Pros:
Innovative adaptive faders and haptic feedback
Built-in microphone for easy audio chatting
Attractive and timeless design
 Cons:
Poor battery lifespan
Some users find the controller too large for smaller hands
The white color of the controller shows dirt and wear over time
The built-in microphone does not provide the same sound quality as a fully dedicated gaming headset
Lack of interesting designs
Price & availability
Price and availability in the States vary depending on the retailer and when you buy it. Generally, you can expect the DualSense US PS5 controller to cost around US$69-80, although sometimes you can snag one a bit cheaper.
The DualSense controller is widely available at most electronics retailers, game stores, and websites, at least now. However, due to the popularity of the PS5 console and the DualSense controller, it can be hard to find it on sale sometimes, especially before the holidays and around the release of new highly anticipated games.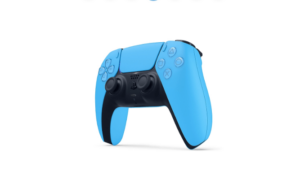 Source: PlayStation website
Buy it if…
You're a fan of classic Sony solutions.
You merely want to enjoy standard features such as haptic feedback and adaptive triggers.
Don't buy it if.
You're not fond of bulkier controllers.
You want a battery with a longer lifespan.
You demand the best sound and communication quality and use a dedicated headset.
You would like to gain a competitive edge through the personalization of features.
You're bored with the standard design and crave more.
Best PS5 controller 2023 – alternative DualSense gamepads ranked
Explore the best PS5 controller picks for gamers in 2023. Check out our list of the best PS5 controller alternatives that are second to none and even surpass Sony's original hardware in terms of ergonomics, durability and usability. Let's get underway with our grand PS5 controller review.
PS5 Aim Controller
AimControllers is one of the most popular PS5 controller companies on the market. PlayStation 5 AimControllers controllers built on Sony's original solution, so its quality and durability are equivalent to the original, but cranked up to the extreme.  That's why the PlayStation 5 custom controller from AimControllers stands out with innovative features and a huge selection of designs that will appeal to collectors as well as avid gamers and streamers. You can design your own PS5 controller on the company's website, or choose from hundreds of available stylish designs, such as a series of controllers developed with Robert Lewandowski or the FC Porto e-sports team.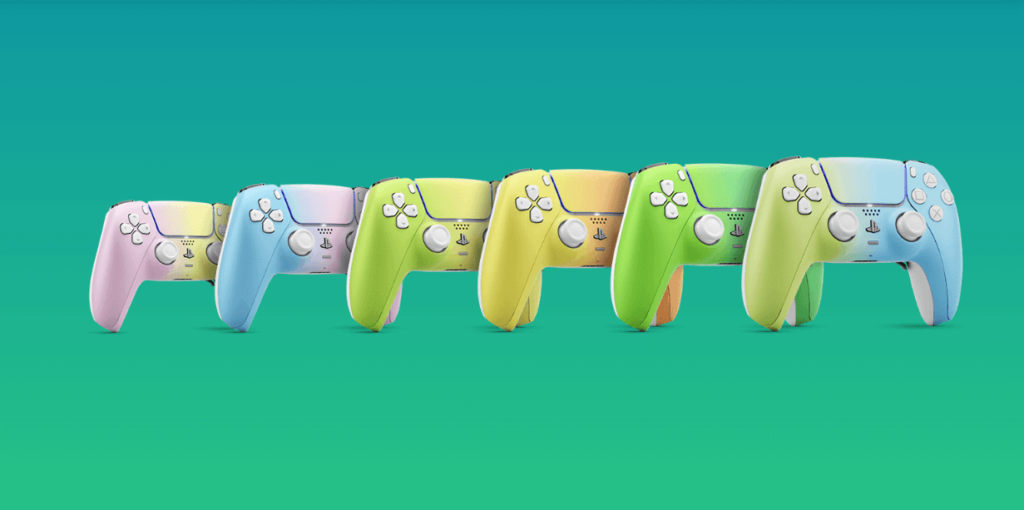 Source: AimControllers' website
AimControllers offers a whole host of exciting features that improve gaming performance and convenience. Most notable, undoubtedly, are Smart Bumpers and Smart Triggers, ideal for FPS-type games, which increase the superiority over the opponent. The PS5 controllers by AimControllers feature interchangeable sticks that adjust to the size of gamers' hands and an innovative AimGrip grip that ensures that even long hours of gameplay are fatigue-free.
Yet, the perks don't stop there, either, thou. Recently, AimControllers also developed super Adaptive Triggers, where trigger buttons have been replaced by innovative digital mechanisms that allow them to be adjusted at will.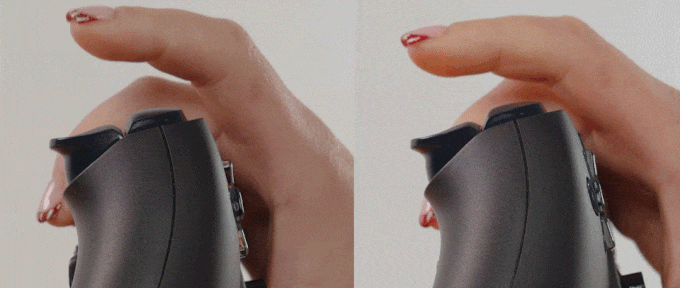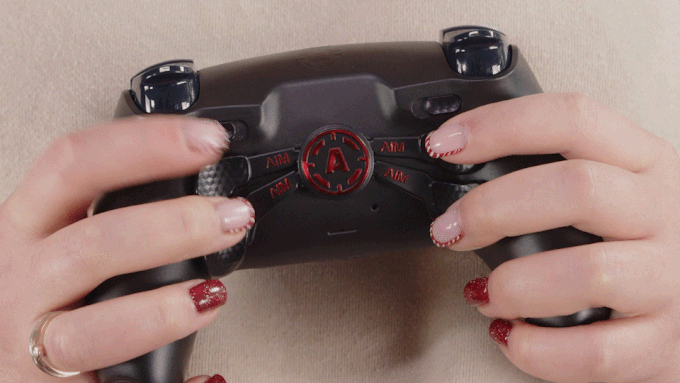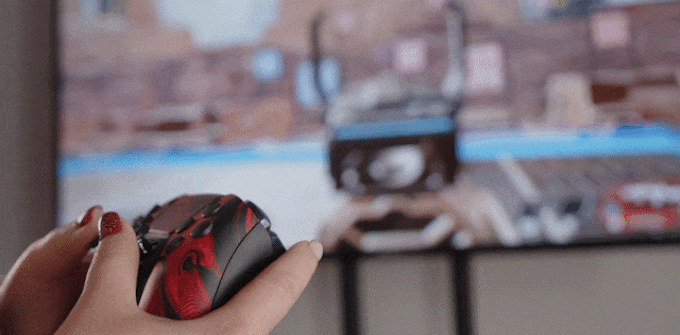 Source: AimControllers' website
TCP Pro PS5 controller
The TCP Pro PS5 controller includes features known from the original DualSense controller, but on top of that it features convenient click sticks located on the back of the device, an interchangeable Analogue system that allows you to adjust the size of your thumbs, and digital faders to shorten the time to switch to the digital version. Furthermore, the TCP Pro PS5 Controller also enjoys the option to add a customized d-pad and an ergonomic grip shell. Its downside, however, is the limited ability to change the design. It's a cool, but expensive piece of tech.
Sony DualSense Edge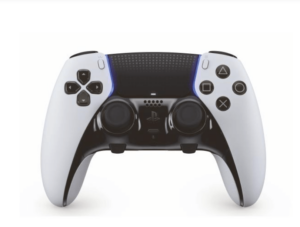 Source: PlayStation website
The Sony DualSense Edge is an official controller created by Sony dedicated to the PS5 gaming console but with a focus on more advanced gamers. It's Sony's answer to the custom PlayStation 5 pads that have won the hearts of gamers. It has additional features such as adaptive buttons that adjust their pressure depending on the game situation and an innovative haptic feedback system that allows you to experience tactile sensations while playing. This controller wins the DualSense comparison with its customizable buttons, adjustable triggers and sticks, and interchangeable stick and back button covers, but not with the alternatives, as it lacks design options and more appealing features.
Scuf Reflex Pro
The Scuf Reflex Pro is a custom PlayStation 5 controller created for professional gamers who appreciate personalizing the controller to suit their tastes. The Scuf Reflex Pro has interchangeable joysticks, extra buttons on the back of the controller, and adjustable trigger settings for more precise control. This custom PlayStation 5 controller also offers smooth joystick operation and is battery-powered, so it can run for long periods without the need for frequent recharging. It is available in several colors, so you can match it to your style. It is available in several colors, so you can match it to the player's style.
Victrix Pro BFG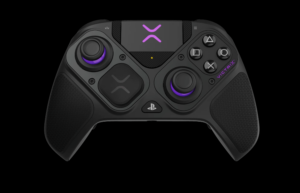 Source: PDP website
Up next in our PS5 controller ranking is the Victrix Pro BFG gear. It's the perfect controller for professional e-sports gamers because it's fully customizable, so you can enjoy even more precision and gaming convenience. The Victrix Pro BFG controller comes with a travel-friendly kit and includes a sturdy carrying case to accommodate all cables, modules, and accessories, such as a USB-C cable (3 meters) and module replacement tool. In addition, it includes 14 interchangeable components that can be customized to suit your game type and style, making it a treat for those who like different game types.
HexGaming Rival Pro PS5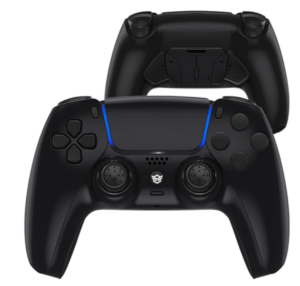 Source: HexGaming website
The HexGaming Rival Pro PS5 is a jacked-up version of the original DualSense, so a good portion of its design is identical to the original controller. Its basic shape and button layout are the same, with the same longer grips and large button panels. However, HexGaming has replaced the PS logo with a Home button and added some basic refinements. It has interchangeable, magnetically attachable analog sticks and comes in three different lengths, each of which appears to be taller than the standard DualSense model – making it comfortable to play with regardless of hand size, unlike the Sony cram.
PS5 controller comparison table
Now take a look, at our side-by-side PS5 controllers comparison! Sometimes solid facts speak volumes.
PS5 V1 Aim Controller

Scuf Reflex Pro

Razer Wolverine V2 Pro

Victrix Pro BFG
Sony DualSense Edge

HexGaming Rival Pro PS5

TCP Pro PS5 Controller

Weight
280 g
300 g
279 g
298 g
322 g
300 g
not specified
Dimensions
16 cm x 6.6 cm x 10. 6 cm
16 cm x 6.6 cm x 10. 6 cm
16 cm x 6.6 cm x 10. 6 cm
16 cm x 6.6 cm x 10. 6 cm
16 cm x 6.6 cm x 10. 6 cm
16 cm x 6.6 cm x 10. 6 cm
16 cm x 6.6 cm x 10. 6 cm
Battery Life
Up to 12 hours
Between 4 and 8 hours
Up to 10 hours with Chroma

Up to 28 Hours without Chroma

up to 12 hours
up to 10 hours
not specified
not specified
Wireless connection
Bluetooth 5.1
Bluetooth 5.1
Bluetooth 5.1
Bluetooth 5.1
Bluetooth 5.1
Bluetooth 5.1
Bluetooth 5.1
Cable
USB-C to USB-A
USB-C to USB-A
USB-C to USB-A
USB-C to USB-A
USB-C to USB-A
USB-C to USB-A
USB-C to USB-A
Price
$200-315
$250-350
$210-350
$200-350
$190-230
$240-350
$170-210
Features
Basic:

Active Triggers

Haptic vibration

Spider Action V3

Pro:

Remappable paddles

Smart Triggers

Smart Bumpers

Aim Back Pro

Aim Sticks

Aim Grip

Remappable Paddles

High-performance Grip

Adaptive Triggers

Interchangeable Thumbsticks

6 Remappable Multi-Function Buttons

Haptic vibration

Active Triggers

Haptic vibration

Active Triggers

Remappable buttons

Adjustable triggers, stick sensitivity & vibration intensity

Two Remap Buttons

Interchangeable Thumbsticks

Active Triggers

Digital Triggers

High-grade Grip

Removed vibration

Click sticks

Warranty
lifetime
6 months
12 months
24 months
12 months
3 months
3 months
Final thoughts on PS5 controller comparison
Plenty PS5 controllers available on the market outperform Sony ones in terms of both functionality and looks. Therefore, all keen gamers should for sure take a peek at the alternatives!